Our General Dentist Services
Take Care Of Your Teeth and Mouth
Practice good oral hygiene at home and schedule regular checkups to keep your smile bright and healthy for many years to come.
A beautiful smile starts with healthy teeth, and healthy teeth affects so much of our overall health. If you're needing a regular teeth cleaning or dealing with something more extensive, we're here to help.
Are you neglecting your preventative care because you don't have dental insurance? Check out our Dental Membership Saving Plan.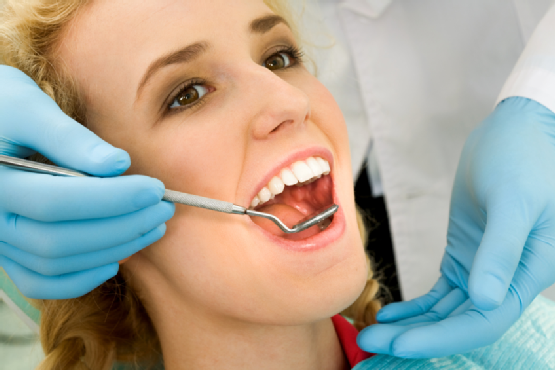 Some Of The Most Popular General Dentist Services We Offer:
Professional Teeth Cleaning
Even if you brush and floss your teeth faithfully, it is important that you have your teeth professionally cleaned on a regular basis. The focus is on preventing tooth decay and gum disease. While your teeth are being cleaned, it's also a good opportunity to take a close look at your oral health in general and check for any other problems.
Composite Fillings
Composite fillings are an aesthetic and effective choice for restoring teeth affected by minor damage and decay. Composite fillings are created using composite resin, which is tooth-colored and will match the look of your natural teeth for a beautiful restoration. During the dental treatment, Dr. Lueck will remove the damaged or decayed portion of the tooth and fill in the tooth with composite resin to improve its health, function, and appearance. Dr. Lueck will also shape and polish the composite dental filling to ensure that fits your mouth comfortably and beautifully. We welcome you to call our office today to learn more about the benefits of composite dental fillings and the dental services we offer. We are eager to improve your oral health!
Wisdom Teeth Extraction
Even if your wisdom teeth are not currently problematic, various dental complications such as infection can arise if they are in an unfavorable position. If necessary, it is recommended that wisdom teeth are removed before age 25 due to lower risk of complications and faster healing time. Dr. Mike has extensive surgical experience and can offer various sedation as well as pain management options. We welcome you to call our Lakewood office today to learn more about wisdom teeth extraction and the dental services we offer. We are eager to improve your oral health!
Bridges
A dental bridge can effectively replace one or more missing teeth to restore the function, health, and beauty of your smile. Two dental crowns (also called dental caps) are placed on the two teeth or dental implants adjacent to the gap to support the new tooth. Dr. Lueck may recommend a dental bridge in order to:
Prevent other teeth from shifting in the mouth
Restore lost facial volume
Improve your ability to chew and eat
Enhance the appearance of your smile
We use dental bridges created from tooth-colored materials for a natural-looking, beautiful restoration. If you are missing one or more teeth, we encourage you to contact our dental office today. Our caring dentist and dental team look forward to providing the dental services so you can achieve a gorgeous, healthy smile!
Oral Surgery
The following conditions may necessitate oral surgery:
Facial injury
Cleft lip and cleft palate
Facial infection
Tooth loss
Impacted teeth
Jaw problems
Dr. Lueck has additional training in many dental surgical procedures. Should the need arise, he may refer you to an oral surgeon to best meet your dental needs. Dr. Lueck and his knowledgeable dental team will counsel with you to understand the options for treating your dental problems and to help you choose the best form of treatment.
Root Canal Therapy
Root canal therapy is used to restore teeth suffering from severe infection, decay, or damage. Root canal therapy can effectively improve your oral health and can prevent the need for tooth extraction, as well as preventing infection from spreading to other areas of the mouth. During root canal therapy, we ensure that the patient is extremely comfortable before beginning work, then remove the infected or damaged portion of the dental pulp, fill in the remaining tooth structure, and may restore the tooth with a dental crown to protect the tooth and restore its shape, appearance, and function. The following are signs that you may benefit from root canal therapy:
Facial swelling
Tooth pain while chewing
Pain in the tooth when you bite down
Oversensitivity of the teeth to hot or cold drinks
We will ensure that your root canal therapy is a pleasant, painless dental experience. In especially serious cases, Dr. Lueck may refer you to an endodontist (a dentist who specializes in treating dental pulp). If you are experiencing any tooth pain, we invite you to contact us today to get you comfortable!
Dentures & Partials
If you are missing many or all of your natural teeth, dentures can restore the function and beauty of your smile. Dentures are removable dental appliances designed to replace your missing teeth. Full dentures are used when all of the natural teeth are missing, while partial dentures are used when some natural teeth remain. Dr. Lueck, will ensure that your custom dentures fit your mouth comfortably and securely and that they look and feel natural. Your dentures can help to:
Restore lost facial volume
Improve your ability to eat, chew, and speak
Enhance the beauty of your smile
Your custom dentures will be created from materials that look like natural teeth and gums for beautiful, aesthetic results.
Using the latest technology Dr. Lueck may also suggest placing dental implants to secure your denture permanently and remove excess material covering the palate, thereby improving taste and speech.
Cosmetic Dentist Services
In addition to the general dentist services listed above, we also offer cosmetic dentist services in our Lakewood office.
We always feel at ease knowing that we are getting the best care and advice available. We have recommended McArthur Dentistry to many of our friends and family that were struggling to find good dental care. It's important to find someone you trust for such an intimate piece of healthcare. Dr. Mike Lueck is the best dentist we have found. The Staff at McArthur Dentistry is top notch when it comes to scheduling and taking care of the billing and insurance. Highly recommended all around!!!
Contact Us Today
Have Questions? Get Answers.
For a dental emergency, please call us at 303-935-9448